Why Sundays Is a Grain Inclusive Dog Food
What You Need To Know About The FDA's Investigation Into Grain-Free Dog Foods And Heart Failure
July 1, 2019
What's Going On?
In July 2018 the FDA opened an investigation into a potential link between grain-free dog foods and a form of heart failure in dogs called dilated cardiomyopathy (or DCM). In June 2019, the FDA issued an update sharing what they've learned so far and named 16 grain-free brands that make affected foods. The investigation is ongoing.
What's The Cause?
Researchers still don't know the exact cause, but the current thinking is that legumes (like peas and lentils) and potatoes, which grain-free foods use to replace grains, are somehow blocking the absorption of essential nutrients. Food scientists have long known that many starches contain anti-nutrients, which are compounds that can interfere with the absorption of other nutrients.
Should You Change Your Dog's Food?
We recommend to switch to a food that does not include peas, lentils, potatoes or other legumes among the first 5 to 10 ingredients. There are no special nutritional benefits to these ingredients, and since they're now thought to be the most likely cause of this issue, it's better to be safe than sorry. Other common legumes to watch out for are chickpeas, soy, and beans.
What Foods Are Implicated?
The FDA called out 16 brands that they've verified have caused DCM in at least 10 to 67 dogs per brand: ACANA, Zignature, Taste of the Wild, Earthborn Holistic, Blue Buffalo, Nature's Domain, Fromm, Merrick, California Natural, Natural Balance, Orijen, Nature's Variety, NutriSource, Nutro, Rachael Ray Nutrish. You can look up your dog food in our library of over 3,000 foods, which is updated to point out which foods contain legumes or potatoes.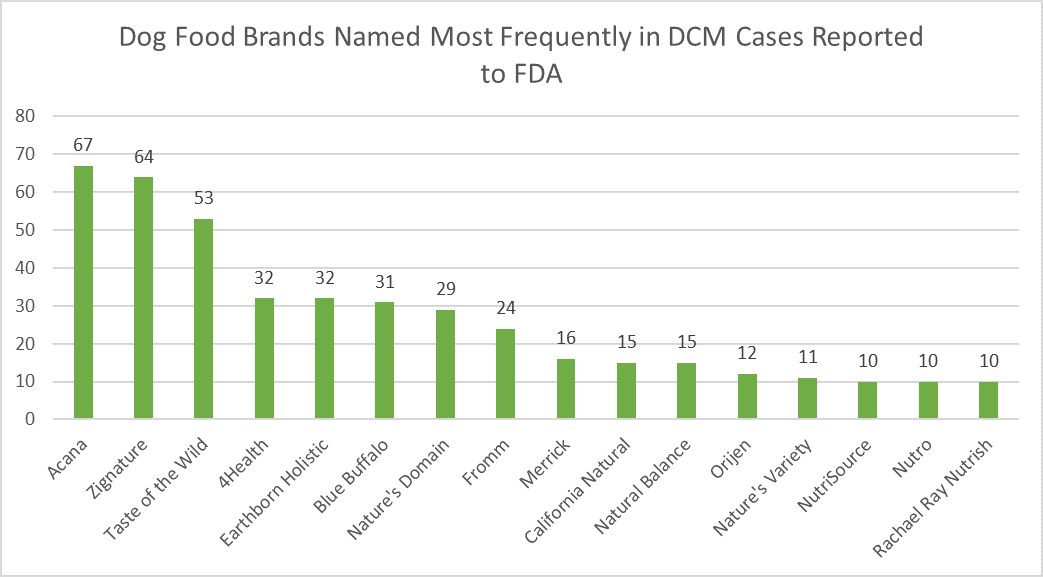 Is Sundays Affected?
No. We do not use any legumes or potatoes in our recipes. We also added a small amount of gluten-free grain (millet) to take a stand against the grain-free trend. Grain-free was always, at best, a silly marketing fad; now it appears to be even worse.
Does My Dog Need Grain-Free Food?
No. Less than 1% dogs have actual grain allergies. While many people feed grain-free to dogs with sensitive tummies or food allergies, there is no evidence that grain-free foods actually help these issues.
Can Dogs Digest Grain?
Yes. In fact, dogs have special enzymes in their stomachs specially designed to digest grain. Wolves, interestingly, do not have these enzymes. Scientists think dogs evolved in this way because they've lived alongside grain-eating humans for thousands of years.
Is It Only Dry Dog Foods?
No. Virtually all forms of dog foods have been implicated: homemade, fresh, refrigerated, freeze-dried, canned, and raw. This means it's likely due to the ingredients, not the cooking or processing method. That said, the vast majority of cases have been found in traditional "hot extruded" dry dog food, also known as "kibble." This is likely because kibble is, by far, the most commonly fed type of dog food in the US.
How Widespread Is Diet-Related DCM?
The FDA has confirmed around 500 cases, but it's likely many times more than that. Whether that's a big number or a small one depends on your perspective. On the one hand, there are 80 million dogs in America. On the other, if a certain kind of food caused heart failure in 500 humans, the FDA would ban it right away and everyone would immediately stop eating it. The number of dogs affected is almost certainly many times more than the 500 reported, because the tests required to prove DCM are expensive and time-consuming, so relatively few dog parents pursue them.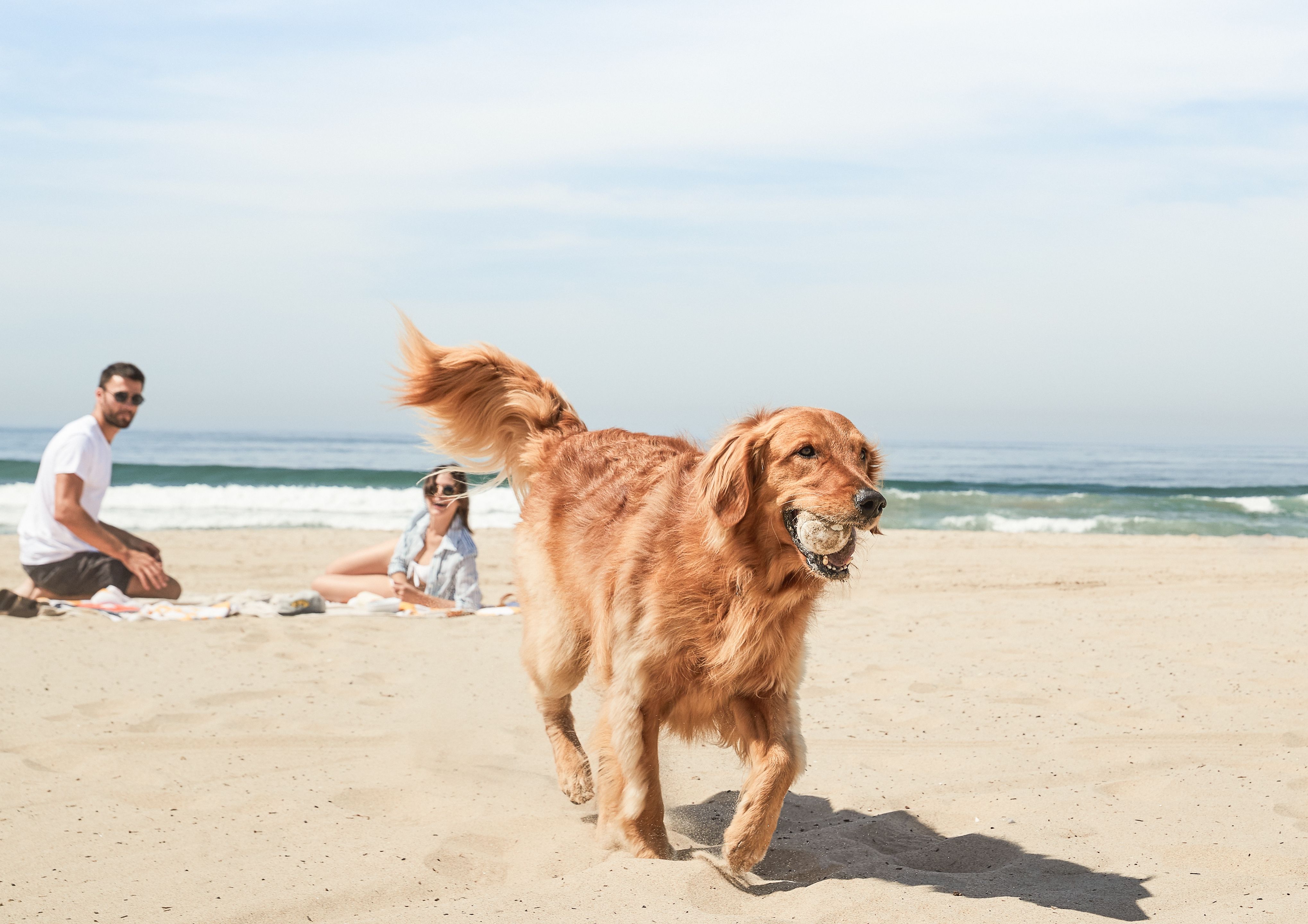 Are Certain Breeds More Affected?
Maybe. It's complicated. Historically, certain breeds were known to be predisposed to DCM, especially large breed dogs (think Great Danes). But this recent spike in diet-related DCM has been found in other breeds not previously associated with the disease, especially Golden Retrievers and Labs. So are Goldens more likely to get DCM? Maybe, but it also could be due to a reporting bias. The golden community did a great job of getting the word out, which could have led to a higher portion of these dogs getting tested.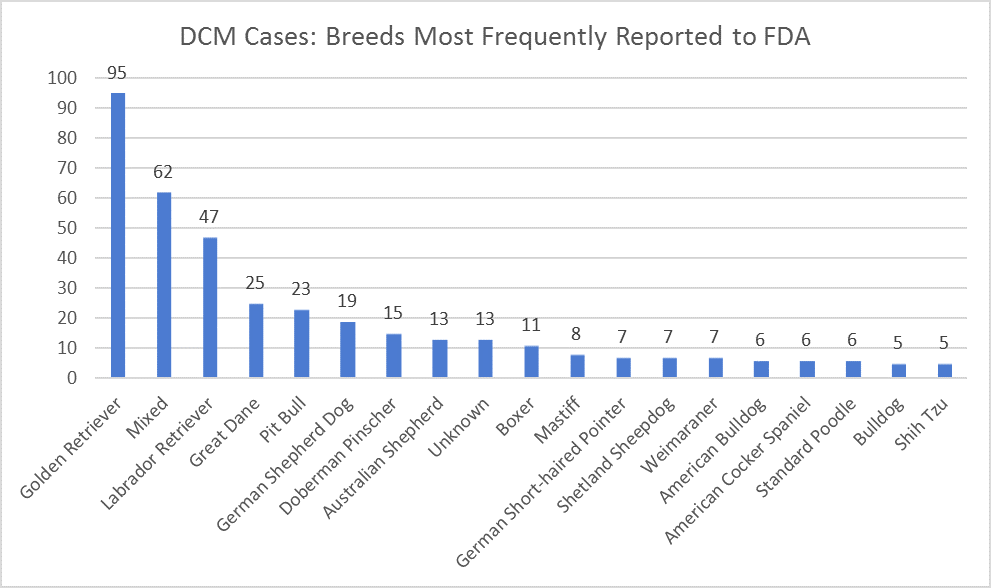 Why Do Companies Use Peas And Potatoes?
They're sources of starch and cheap protein. Kibble needs to be at least 25% starch (and less than 25% fresh meat) so that the pieces stick together. If you remove grain, you need another source of starch to bind the food together. Also, peas and potatoes are cheaper sources of protein than animal meat, so they allow manufacturers to make grain-free foods at much lower costs than they otherwise could.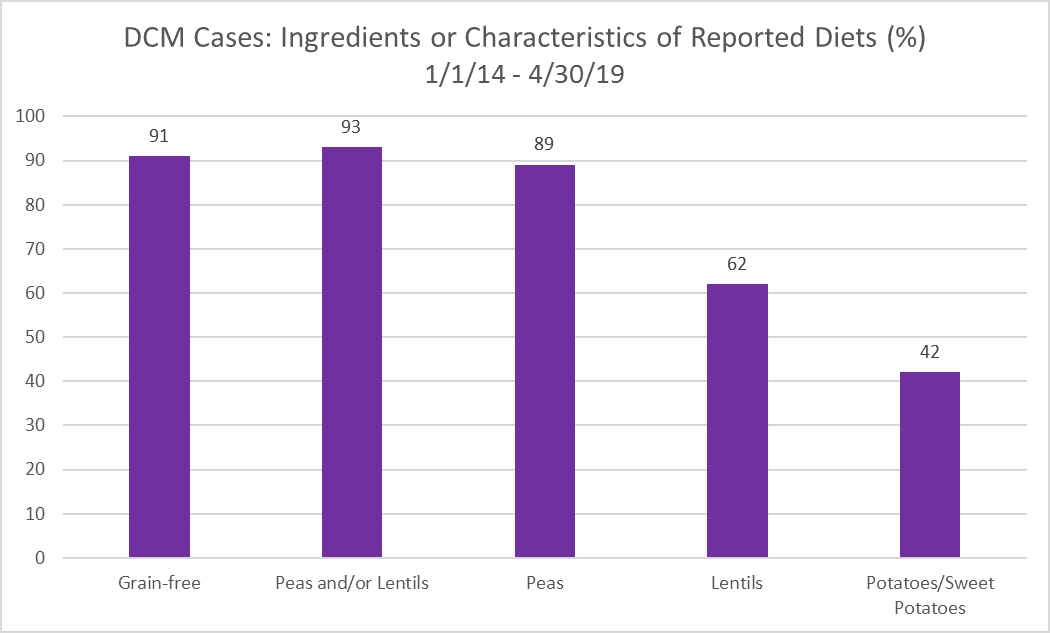 What About "Taurine"?
When the investigation started, the FDA suspected that the root cause was related to grain free dog foods not having enough of an amino acid called taurine. After further research, they discovered that most affected foods and dogs with DCM both had sufficient levels of taurine, so this is no longer seen as a likely cause. Many dog foods announced they are supplementing their food with synthetic taurine, but, again, this is no longer thought to be necessary. Unlike cats, dogs' bodies can create their own taurine.
What About "Exotic" Ingredients?
Initially, another suspected cause was "exotic" ingredients in grain-free foods, particularly rare animal proteins like buffalo, duck or even kangaroo meat. In the FDA's June 2019 update they shared that the most common protein in affected foods was actually chicken, which is the most common meat used in dog food (in other words, the least exotic ingredient). This means that exotic meats are likely just correlated with this issue, but not causing it.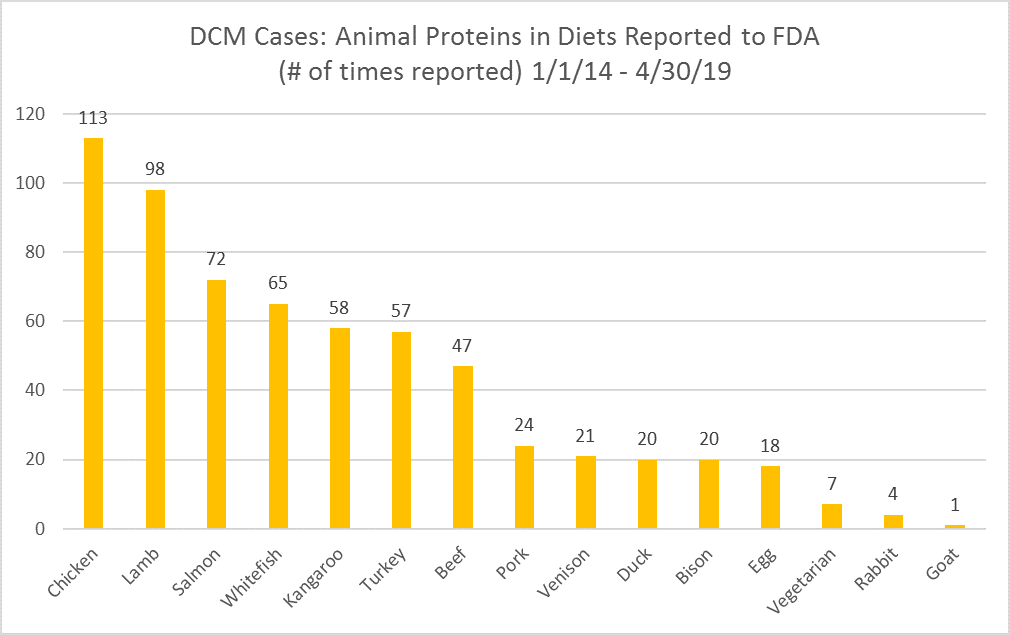 What's An Example Of An Implicated Food?
The most common brand in the FDA's study so far is ACANA, a food made by Canadian pet food company, Champion Pet Foods. Let's look at their ACANA Pork and Squash Singles Grain-Free Dry Dog Food Formula. Here is the ingredient list:
Deboned Pork, Pork Meal,

Whole Green Peas,

Red Lentils,

Pork Liver, Pork Fat,

Pinto Beans,

Chickpeas,

Herring Oil,

Green Lentils,

Whole Yellow Peas,

Whole Butternut Squash, Pork Kidney,

Sun-Cured Alfalfa,

Natural Pork Flavor, Pork Cartilage, Dried Kelp, Freeze-Dried Pork Liver, Whole Pumpkin, Kale, Spinach, Mustard Greens, Collard Greens, Turnip Greens, Carrots, Red Delicious Apples, Bartlett Pears, Pumpkin Seeds, Sunflower Seeds, Zinc Proteinate, Mixed Tocopherols (Preservative), Chicory Root, Turmeric, Sarsaparilla Root, Althea Root, Rosehips, Juniper Berries, Dried Lactobacillus Acidophilus Fermentation Product, Dried Bifidobacterium Animalis Fermentation Product, Dried Lactobacillus Casei Fermentation Product.
As you can see, 6 of their first 11 ingredients are legumes. Also, for what it's worth, 4 of the first 6 ingredients are considered "exotic" meats, as pork is not commonly used in dog food.
What's The Status Of The FDA Investigation?
The FDA is continuing their investigation. The link between grain-free dog foods and DCM is complex, and it may take years for researchers to determine the exact causes. In the mean time, it's reasonable to make decisions based on what we currently know (and don't). For instance, there is no harm in avoiding grain-free foods that contain legumes or potatoes.
How Can I Help?
If you notice potential signs of DCM in your dog (such as loss of appetite, pale gums, increased heart rate, coughing, difficulty breathing, periods of weakness, lethargy and fainting), then see your vet immediately. If they determine that your dog has diet-related dilated cardiomyopathy and you've been feeding a grain-free dog food, then report it to the FDA here: file a pet food complaint with the FDA.
Who Are We And Why Did We Write This?
First and foremost, we're loving dog parents who want the best for our scruffy family. We're also a husband-wife team of a practicing veterinarian and an engineer who have spent the past 2 years developing a new dog food. We've worked with some of the world's leading animal nutritionists, food scientists, and veterinarians, and at this crucial moment we want to share what we've learned about dog food with our fellow dog parents.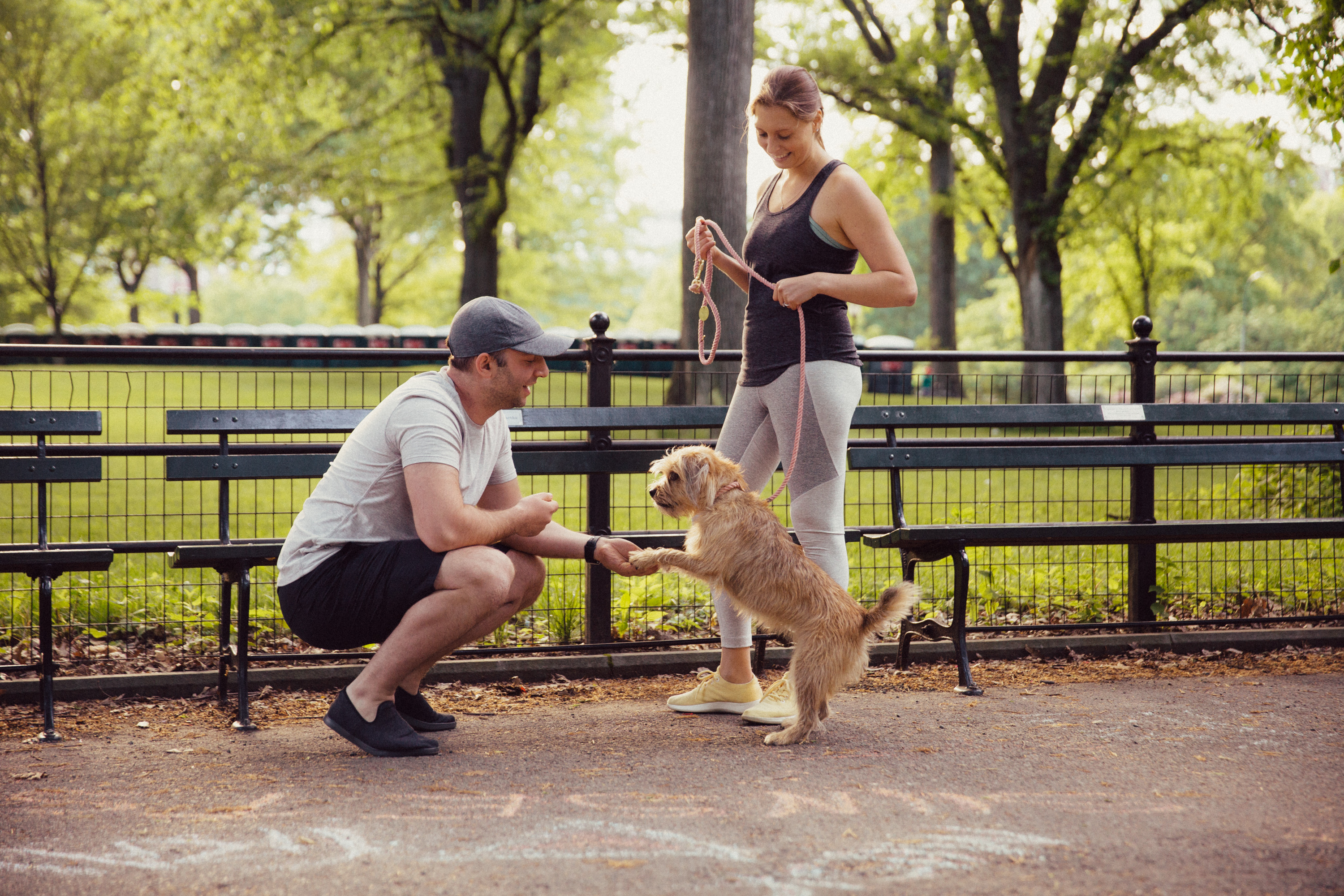 Other Resources
Is My Dog Food Affected?
We created a tool that let's you search over 3,000 dog foods available in the US. We've updated our database with brands directly linked to DCM, as well as other foods that may be invovled due to their ingredients.